Jurassic World: Dominion Dominates Fandom Wikis - The Loop
Play Sound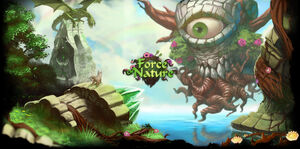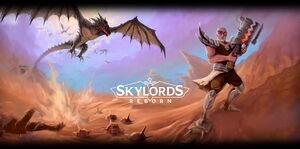 In Skylords Reborn there are multiple types of loading screens. They always follow the same principle by showing a centered artwork in the top. Below a text field and below that a loading bar.
Types of Loading Screen
Random text & fixed artwork
The default loading screen artwork and a random text hint out of a pool is shown.
Start Forge/Return to Forge after match
Replay start-up
Fixed text & fixed artwork
The artwork and text are assigned to the map and will always be the same.
Custom text & custom artwork
The artwork and displayed text are defined by the map maker.
Loading Screen Text
Campaign PvE
Below are the fixed campaign loading screen texts and their respective artwork.
---


The Skylords now had to keep Viridya's minions at bay as they protected the weakenend Jorne and with him, the fragile truce. Were this not enough, they would also have to bring her back into balance. As a spirit Viridya's power was god-like, it would take all the Skylords' might to tear her madness from her and grant her peace.
---


Yet one of the missing treasure wagons was found. The Lyrish humans sent a messenger to the Giant King, Jorne. They offered him the wagon in the hope of gaining a truce.

But news of the treasure attracted marauders who hungered not for peace, but simply blood and gold. With them came a rogue giant and his Stonekin minions.
---
---
---
---


History points to the irony that it was not Brannoc's almighty gaze which found the missing gods' trail, but the mortals of Lyr. The very same mortals who would have been dead, had all Skylords followed their leader's command. And even now, creatures cursed with the Twilight taint surrounded them, attracted by the artefact they had discovered.
---
---
---


For Rogan Kayle and a group of human refugees the long journey home had become a terrifying battle for survival as they emerged into a world forever changed.
---
---


Rogan Kayle, desperate to stop the destruction, sought to lure the Giant King Jorne into the fight. He reasoned bringing a third power into the fray would tip the balance and end the destruction. The price of failure was unthinkable.
---

I'm not what you'd call a people person; being smart and 30 feet high doesn't seem to fit into the natural order of things, especially among my own kind. As for everyone else, they're generally terrified of me or convinced I should be hunted. Not exactly a balanced life. But when you're good at breaking things, you kind of get along with orcs. In my case one particular orc, calls himself Twinaxe. Only real friend I ever had. We had some good years; adventuring, plundering, wrecking a city or two. Happy times. But I lost track of him during The Twilight Wars.I heard he was with the Red King's guard on one of those massive treasure ships. Figure if I find them, I find him. So that's what I'll go do.
Anything or anyone in my way is now officially out of luck.
---
---
---
---

Had I known what that Skylord Moon had in store for me, I would have crashed her pretty party, my word on it. But I was off being chased by a bunch of bloodthirsty lunatics so the crafty wench got her way.
---
---
---


Shepherded by his rebellious daughter, Viridya, mortals, most of them humans of the Northern Lyrish empire, gathered near the city called Hope. She believed there they could both make a new beginning and defend against the twilight creatures. Further disobeying Brannoc, Viridya convinced some of the Skylords to use the Forge to conjure legendary creatures and wonders of old. Moon, his able lieutenant, remained silent in the face of Viridya's plans.
---
---


One of the cursed gods still remained at the Shrine; Mora, the god of growth. A twisted shadow of his former self, Mora was thought to be the only creature who could point the Skylords to the source of the evil.
---


The Riddle of Gnaur, he who had stored the wisdom of power within magical crystals, was said to only be revealed to those who were at one with magic.

But the Cult who guarded Gnaur's secrets and controlled his Stonekin servants would not give up the knowledge without a struggle.
---


Were they driven by desperation? Did the Twilight hunger to snuff the tiny flicker of hope that now fluttered in men's hearts? With no magical wonders to aid them, the humans were forced to try and restore Lyr's ancient mechanical defences. But the Twilight would not to be stopped by rude cannons and simple walls alone.
---
---


Viridya had a powerful affinity to Nature and knew this ancient conflict had spawned its most powerful artefact, the mighty Soultree. Within it she hoped to finally find the strength needed to rid the world of the Twilight curse. Moon watched but still did nothing, believing perhaps in the purity of Viridya's intentions.
---
---
---
Random Pool of Hints
Below is a table with all currently existing randomly selected hints that can appear during loading screen.
| Number | Hint |
| --- | --- |
| 1 | 2vs2 PvP does not affect your PvP rank. |
| 2 | A created quick access group can be selected by clicking the group icon or pressing the assigned number (0-9). |
| 3 | Always keep track of how many power wells and monuments both you and your opponent have, and react accordingly. |
| 4 | Always use strong passwords. More complexity means more security! |
| 5 | As long as card buildings remain standing, their power will be bound and not return to your void power pool. |
| 6 | Be nice to new players. You have been a new player once, too. |
| 7 | Campaign PvE grants you upgrade cards, random generated PvE grants you gold as reward. |
| 8 | Cheaters are found and punished automatically. |
| 9 | Do not share your account data, even with those who claim to be Skylords Reborn staff members. |
| 10 | Do not trust players who say that their direct trade is broken - it is not. |
| 11 | Don't be angry if you lose a match. Learn and improve! |
| 12 | Don't play with your enemy - he might defeat you. |
| 13 | Many cards can be used in their own way to create massive combos. |
| 14 | Every week you can choose two free PvP decks, their cards can only be used for unlimited mode PvP games. |
| 15 | For won PvE campaigns, the higher the difficulty, the higher are the card upgrades you receive as reward. |
| 16 | Frozen entities take 50% reduced damage. |
| 17 | Gold is required to claim and apply card upgrades, pay auction fees or to send ingame mail to other players. |
| 18 | If a unit's counter type is the same as the size of the enemy unit, it will deal 50% more damage. A units' size and counter type can be seen at the bottom of each card. |
| 19 | If the enemy seems too strong, try upgrading your cards. |
| 20 | If you receive an ingame mail asking for your password, delete it! |
| 21 | If you remove upgrades from your cards, you do not lose the upgrade. |
| 22 | In PvP, attack multiple places at once in order to put your enemy under pressure. |
| 23 | Increase your card charges by combining multiple cards of the same kind in the card upgrade screen. You can get there by right-clicking on any card, as long as you are not in deck editing mode. |
| 24 | Know when to use spells. A well-placed heal or explosion can turn the tide of battle. |
| 25 | Know your hotkeys! |
| 26 | Many cards have two slightly different versions of them called affinities. |
| 27 | Mini boosters contain mostly common and uncommon cards, with a slight chance for a rare card. |
| 28 | Multiaccounting will get you banned! |
| 29 | Need technical help? Visit http://forum.skylords.eu/ or contact any Skylords Reborn staff member. |
| 30 | Never interrupt your enemy when he is making a mistake. - Napoléon Bonaparte |
| 31 | Official ingame mails have a Skylords Reborn logo attached. |
| 32 | Once a card's charges have been depleted in a match, it needs to recharge. The time needed equals half the card's energy cost in seconds. |
| 33 | Only trade by ingame mail with players you really trust! |
| 34 | Players causing synchronization errors deliberately are identified automatically and punished for cheating. |
| 35 | Power from your void power pool flows back into your normal energy pool over time. |
| 36 | Protect your power wells and monuments, when they get destroyed, the energy invested in them is permanently lost. |
| 37 | PvP matchmaking does not take deck level into account. |
| 38 | Remember to keep ground units alive - you might need their ground presence! |
| 39 | Right clicking on any owned card or upgrade card allows you to select it as your avatar icon. |
| 40 | Single units can be selected by left-clicking on them, double left-click on them to select all visible units of that kind. |
| 41 | Skylords Reborn staff members will never ask for your password. Do not give your account data away! |
| 42 | Some achievements provide extra information, when you hover with the mouse over their progression bar. |
| 43 | The cards within a booster are determined upon opening, not upon purchase. |
| 44 | The damage indicated on unit or building cards is the damage the card deals per twenty seconds. |
| 45 | The line of sight of selected units can be defined by holding right-click at the target position, then holding left-click and finally dragging the mouse in the desired direction. |
| 46 | The longer you search for a ranked PvP game, the lower or higher your enemy's ELO can be. |
| 47 | The more power there is in the void power pool, the faster it refunds. |
| 48 | The more power wells you have, the faster you gain power. |
| 49 | The number of orbs a card needs to be cast is called Tier. |
| 50 | The only melee units that can attack flying units, are XL units. |
| 51 | The possible content of a booster can be checked in the marketplace. |
| 52 | The proof of heroism is not to win a battle, but to bear a defeat. - David Lloyd George |
| 53 | The right bottom corner icon of a card displays the card's rarity. Bronze, Silver, Gold and Turquoise for Common, Uncommon, Rare and Ultra Rare. |
| 54 | Unlike Spell cards, Arcane and Enchantment cards require no ground presence to be cast. |
| 55 | Unread ingame mails are returned to the sender after 30 days. |
| 56 | Use the map editor to create your own BattleForge maps! |
| 57 | Using toggle abilities of cards and repairing structures returns 100% of the power spent into the void power pool. |
| 58 | Visit the Skylords Reborn forum at http://forum.skylords.eu/ |
| 59 | When a spell is played, a unit dies, or a building is destroyed, 90% of spent power will be sent to the void power pool. |
| 60 | When in deck edit mode, the deck icon can be set by dragging any card of the deck onto the icon field. |
| 61 | When ingame, clicking on the bell icon in the top left corner allows you to select all of your units. |
| 62 | While having own units selected, a quick access group can be created by left-clicking the plus icon in the top left corner or pressing CTRL + number (0-9). |
| 63 | You can left-click on a card in the auction house or in the booster content window to spawn it and test the fully upgraded version in the forge. |
| 64 | You can prevent players from sending you invites or messaging you by selecting the status "Do Not Disturb" (DND) in the player contacts window. |
| 65 | You can rotate a building preview with CTRL+mouse wheel. |
| 66 | Your ELO score represents your Ranked PvP Experience Points. The higher the ELO score, the higher is your PvP rank. |
| 67 | In order to see the effect radius of own or allied buildings, hover the cursor over it for a short moment. |
Patch History
Changed the artwork of the default loading screen to the shared artwork of the new Bandits cards (old: / new: ).
Adjusted punctuation in Russian Loading Screen hints.
Improved some loading screen texts for Russian and French.
Reordered and added some loading screen hints.